As a TotSwap consignor, you are in total control of your pricing!
As a general rule you will want to price items at about 1/4 to 1/3 of their original retail price. 
A great question to ask yourself is, "What would I pay for this?"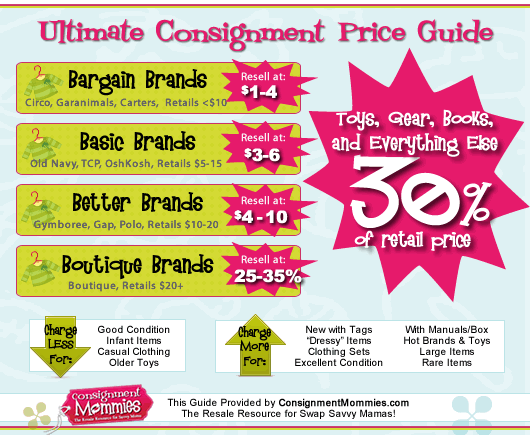 Toy Pricing
Price & tag your toys, baby equipment, "stuff" first. These are the most popular items, they will earn you the most money, and will sell quickly!! Clothing is also very popular!
Clothing Brands
When it comes to clothing, shoppers are looking for higher-end brands such as Gymboree, Janie & Jack, Hanna Andersson, Lily Pulitzer, Ralph Lauren, etc.

Discount brands such as Carters, OshKosh, Old Navy, Target, etc., are also popular brands, but will not earn as much.

Finally, brands from Walmart, Kmart, etc., need to be inspected thoroughly because they are typically not worth the $2 minimum per item. These brands may be best for donating to a local charity or for your local garage sale.
Clothing Sets
Consider putting multiple items together (two shirts; a shirt and pants set). Sets are typically a better value for the shopper and sell better then single items.
Outdoor Toys
The one exception to the 1/4 – 1/3 rule will be indoor/outdoor toys like kitchens and playhouses (Little Tykes type items). These types of toys are in higher demand and you can expect to get as much as 1/3-1/2 of original retail price, especially if they have only been used indoors and are in great condition.
Finally, if you are unsure of the value of certain items and want to do some research, spend some time on the Internet and "shop" for those items.  Take a look at other sites such as CraigsList or eBay (completed listings) to see what a similar item is being sold for.  Or check Toys R Us or Target for retail pricing.  I do NOT recommend looking at Amazon for pricing because often times pricing is based on supply and demand and can be VERY "off" at certain times of the year.