High Standards
It is important that our sellers only bring items that are in excellent condition.  We do not accpept items with missing pieces, stains, tears, excessive wear, smoke or musty smells, etc.  Sellers must inspect their items thoroughly prior to drop off.  Items that do not meet these guidelines will be either rejected or pulled from the sale floor.
All items (including clothing, toys, books, etc) must be priced at a minimum of $2 for our IN PERSON sales and $4 for our ONLINE sales. Items of lesser value may be bundled to increase the cost of the item!  For example, 2-3 books or an outfit are great things to bundle and our customers love to shop these!
All items must be in working order for us to sell at the TotSwap.  Electronics must have batteries, all pieces must be included in games & puzzles, etc.  Be sure to thoroughly test your items prior to drop off.
150 Item Limit for IN PERSON Sales
While we'd love to take it ALL, we don't always have the room for it all.  Consignors are limited to 150 clothing items per event.  Within that 150 there is also a limit on the baby sizes 0-24mos, juniors & maternity items.  Please read below for these specific limits.

Accepted Items
Limits for IN PERSON Sales
No limits for ONLINE Sales
NEW IN PACKAGE items limited to only 2 of the SAME item.  These may be restocked but only 2 of the same NEW IN PACKAGE item from the same seller may be on the sale floor at one time.

NEW For ONLINE Sales ONLY – Women's clothing, shoes & accessories, home decor, & pet items.

Girls Clothing Sizes Preemie-Juniors

Boys Clothing Sizes Preemie-20

NO MORE THAN 10 JUNIOR Boy/Girls TOTAL clothing items per consignor. These 10 items MUST be one of the following brands and MUST be listed on the tags description: Abercrombie, Adidas, Billabong, Champion, Charlotte Russe, Columbia, Lilly Pulitzer, Under Armour, Nike, Gap, Athletica, PINK, American Eagle, Pac Sun, Hollister, Urban Outfitters, North Face, Vineyard Vines, Southern Marsh.

Infant Clothing – limited to 25 items per size regardless of gender up to 24 mos. (preemie, 0-3mos; 3-6mos; 6-9mos; 9-12 mos; 12-18mos; 18-24mos)

This is where things might get a little confusing…our racks are set up this way. So if you have an item that does not fall into one of these sizes (3mos; 0-6mos, etc) you will need to choose where to hang the item. We recommend that you size down since used clothing items are washed they may run smaller than when purchased new. But you may size up if you feel an item runs large. The limits are based on our racks so if you have put your 0-6mos item in the 0-3 category, then that counts for 1 in that category. You can adjust that item though to put it in 3-6mos if you have reached your limit already in 0-3. I hope that makes sense!

Maternity Clothing – limited to 5 items per consignor

Shoes – Each seller is limited to 25 pairs of shoes! Kids wear their shoes hard so please make sure they are in great condition before you try to sell them!

Costumes – accepted year round, but especially popular during the Fall season

Gloves, Hats, Heavy Jackets – these are accepted during the Fall sale seasons or ALL season sales ONLY. Please do NOT bring in the Spring sale season.

Outdoor Toys (Outdoor play equipment, outdoor children's furniture, beach gear, bathing suits) – these items are accepted ALL YEAR ROUND!

Books – any books for children & parents (no "adult" theming)

DVDs – for children & parents (no "adult" theming)

Parenting & Pregnancy books & DVD's

Crib Sheets, Receiving Blankets

Stuffed Animals – ONLY those that do something (move, music, talk, etc) and they MUST work with batteries.

Baby Furniture & Equipment – strollers, baby swings, pack n' plays, baby carriers.  We are unable to sell any items that have been recalled.  Please note that furniture should be assembled.  Customers want to know that all pieces are included and that items are in good working order.  While it can be a hassle, they are MUCH MORE likely to sell if they are assembled!

Car Seats: 1.  Must not have been in an accident.  2.  CANNOT be more than 5 years old based on the manufacture date stamped on the seat.  If the label is missing we cannot sell it.  3.  CanNOT have been recalled

Cribs – Please not that we will NOT accept cribs manufactured prior to June 28 2011. ALL cribs must have the manufacture date on the crib showing it was made after this date.

Sports Equipment & Accessories – cleats, shin guards, baseball gloves, etc.

Craft supplies including scrapbooking items

Anything else related to children!!
What's in Season?
We do limit which season of clothing items may be sold at both our IN PERSON & ONLINE sales. Be sure to click into the specific sale you information page for this information. The sale seasons are listed at the top under Featured Seasons.
For the Spring/Summer sales please steer clear of tagging heavy coats, snowpants or snow boots, heavy fabrics, etc.  We do still accept long sleeve shirts & pants.
For the Fall/Winter sales please do not bring clothing that has summer theming, lighter fabrics such as linen, and bathing suits.  You can still bring short sleeve shirts & pants.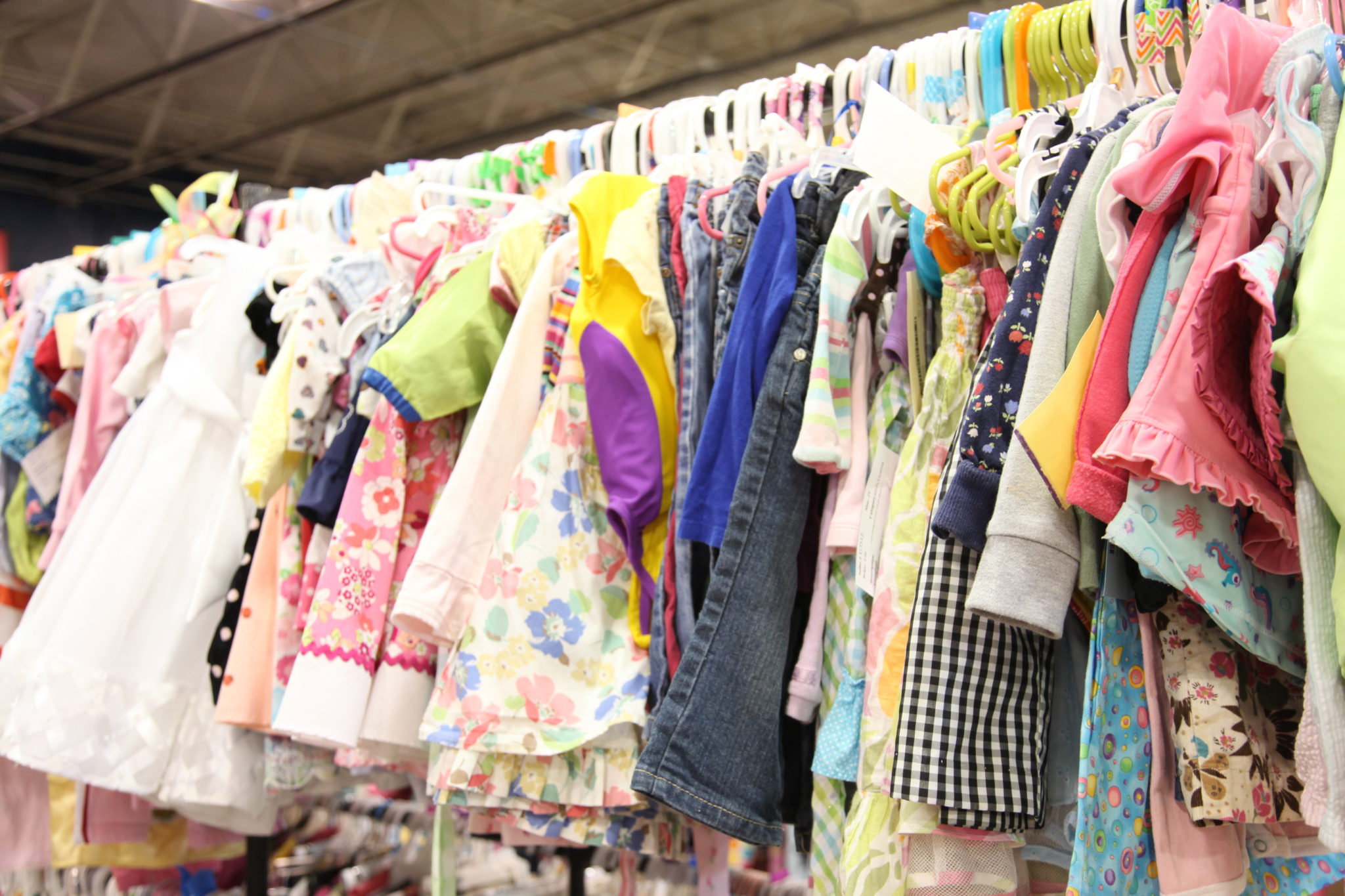 Items Not Accepted
FREE ITEMS – free formula samples, free toys from fast food restaurants, free diaper bags, etc.

BEDDING – We are no longer accepting this. The ONLY exception is fitted crib sheets.

BLANKETS – other than receiving blankets.

CRIB BUMPERS – The sale of these items has been outlawed in the state of Maryland. Please remove these from any bedding set, they are NOT permitted for sale. Mesh bumper pads are still OK.

Underwear – please leave used undergarments at home!!

Battery operated toys without batteries – batteries can be purchased at the dollar store

Dirty toys, furniture, or equipment

Items that have been recalled – please check prior to bringing items